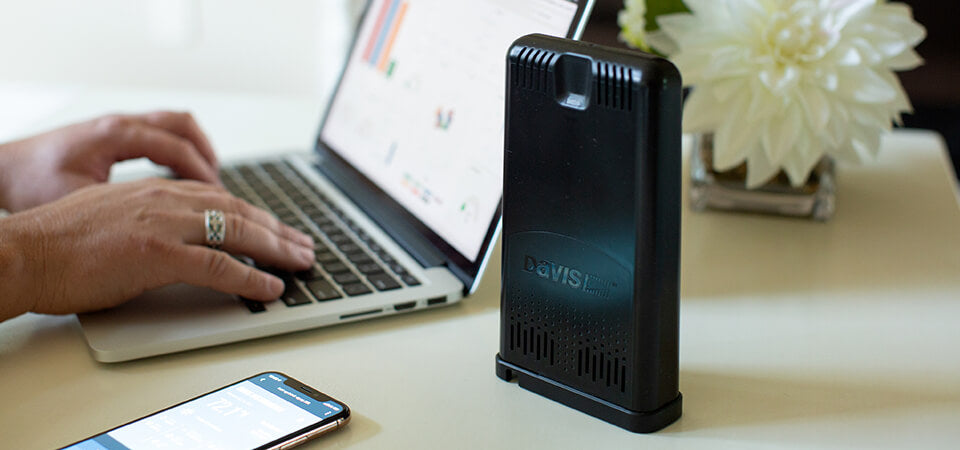 What's the difference between WeatherLink Live and Standard Data Loggers?
Why WeatherLink Live?
Wi-Fi: Easy to set up, wireless connection for automatic uploads to the WeatherLink Cloud. Unlike our WeatherLink USB/SER or the discontinued WeatherLink IP, the ethernet connection is optional.
Stream Live Data: See real-time updates on the WeatherLink iOS and Android app. The WeatherLink app updates every 2.5 seconds when on the same Wi-Fi LAN (Local Area Network) so you can watch wind gusts on your phone as they happen. This is 24X faster than our standard loggers display data on the WeatherLink Cloud (every minute).
No Computer Required: Unlike WeatherLink data loggers, no dedicated computer is needed. You can access your data on the WeatherLink Cloud from any connected device: your smartphone, tablet -- or a computer.
Free your console: WeatherLink Live is independent of the console. Put your console anywhere you want within range of the transmitter. Unlike WeatherLink data loggers, it does not need to be near the computer or router.
Build a network of sensors: WeatherLink Live can "listen" to 8 transmitters, in any combination, allowing you to build a custom network of the sensors and sensor suites. Unlike WeatherLink data loggers, which are limited to the console's maximum, this means over 80 sensors can report to one WeatherLink Live.
In the face of escalating environmental risks, AEM is the essential source for insights on weather, climate, lightning, floods, wildfires, water management, and more.
Learn more about AEM and all of our solutions here.