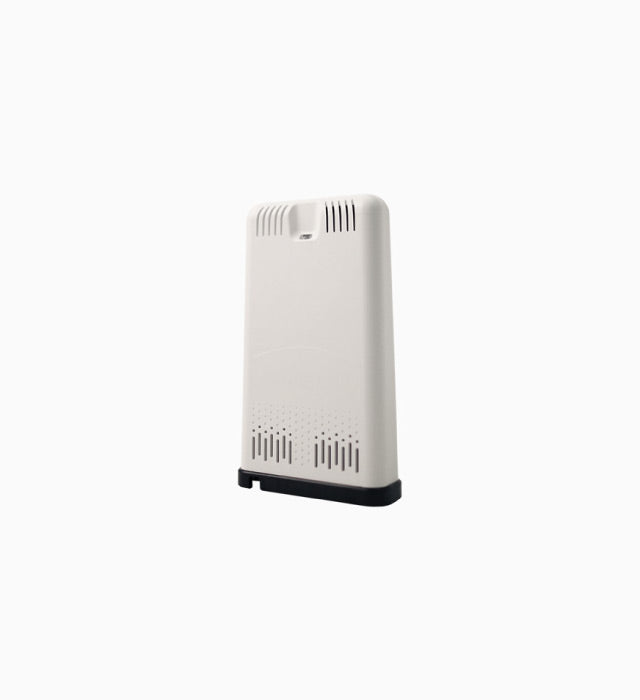 EnviroMonitor IP Gateway (Wi-Fi/Ethernet) - SKU 6805
Save

Liquid error (snippets/product-badge line 32): Computation results in '-Infinity'

%
Get help buying. Call (800) 678-3669 (USA and Canada).
Require a one-time hardware activation fee and an Annual Service Plan (Subscribe in the EnviroMonitor app during installation.).
The Davis Instruments IP Gateway for EnviroMonitor allows you to set up a number of Nodes with up to four sensors installed in each of them. The Nodes send data to the Gateway and to each other via radio transmission, forming a mesh network of sensors. The IP Gateway can also work with the Davis GroWeather Sensor Suite through either a wireless or cabled connection. The GroWeather Sensor Suite allows you to collect rainfall, wind speed, temperature, humidity, solar irradiance data, and more.
The IP Gateway for EnviroMonitor uploads the data from the Nodes and the GroWeather to WeatherLink.com. It can be accessed on WeatherLink.com, the WeatherLink mobile app, and the agricultural-focused app, Mobilize. This system is perfect for those in the agriculture industry because it allows you to keep track of micro-environments on your farm. This is a great solution for farmers, agricultural research stations, universities, schools, serious backyard gardeners, and others.
Highlights

Click here to learn more about the product.

Collects all essential data from EnviroMonitor Nodes and pushes it securely to the Cloud server via Wi-Fi or Ethernet.
Access your data on your phone, tablet, and computer on WeatherLink.com, WeatherLink mobile app and the ag-focused Mobilize app, 24/7.
Add up to 32 Nodes with up to four sensors each and any cabled or wireless Vantage Pro2 or Vantage Vue sensor suite; choose from 100+ Davis and third-party sensors.
AC-powered with battery backup.
Can be mounted outside in weather-resistant Universal Shelter (6618).
Add 8 dBi Long-Range Antenna (7678) to get communication range of up to 10,000'/3,000 m.
EnviroMonitor App walks you through easy installation using your phone's Bluetooth function.
One-year manufacturer's warranty.
Annual Service Plans

Each Gateway requires an Annual Service Plan.




Choose one of three update intervals in the EnviroMonitor app during installation. Requires a $30 one-time Hardware Activation Fee (#6645).

| | | |
| --- | --- | --- |
| Update Intervals | Product Number | Annual Service Charge |
| 5 min | #6892D | $180 |
| 15 min | #6894D | $156 |
| 60 min | #6896D | $132 |

Contact us directly for annual service plan information and availability for customers outside the US. All prices are in USD and per Gateway/IP Gateway.
FAQs

Click here to view popular questions and answers about the product.

How does the EnviroMonitor IP Gateway work?

The IP Gateway uploads data to the WeatherLink Cloud using a Wi-Fi or Ethernet connection. It receives data from sensors in the Nodes via mesh transmission. Nodes should be sited for optimal transmission, but, since the Nodes transmit to each other, they can act as repeaters and the mesh becomes self-optimizing for reliable data transmission. Next, you install the IP Gateway at a central location. Finally, install the EnviroMonitor App, open it, and follow the prompts for setting the system up.

The system comes with easy-to-follow instructions for siting and setting up your array of Nodes and sensors. Each Node must be set up on the Gateway. You can connect up to 32 Nodes with four sensors each.

What can I use to access the data from my EnviroMonitor IP Gateway?

You can access your data on any connected computer or smartphone. Simply log into your account at WeatherLink.com or the WeatherLink and Davis Mobilize apps to view and manage your data. Both apps, as well as the EnviroMonitor app used for setup, are available for iOS in the App Store or the Google Play Store for Android users.

Where can I use my EnviroMonitor IP Gateway?

You can use your IP Gateway anywhere with AC-power and Wi-Fi or Ethernet. Normally, this would be inside, but you can install it outside where there is AC-power by using a Davis Universal Shelter. It should be within transmission range of one or more of your Nodes.

The type of environment will determine the optimal transmission range from Node to Node and Node to Gateway. For instance, if you are using the Gateway underneath the canopy of an orchard, the range is between 300-500 ft. If Nodes are installed in a field of corn above the maximum height of the crop, the range is 1,700 – 2,000 ft. The transmission distance could be reduced to below 300 feet if the Gateway or Nodes are behind an obstruction.

The system is designed to work with a Davis Instruments cabled or wireless GroWeather sensor suite.The Nodes support a long list of sensors from Davis Instruments, as well as trusted third-party sensors. You can collect data from soil moisture/temperature, leaf wetness, pressure, carbon dioxide sensors, as well as flow meters and more.