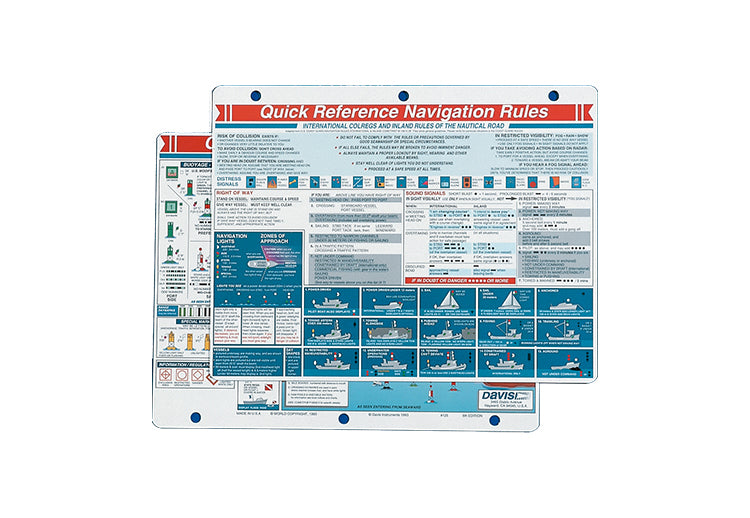 Navigation Rules - SKU 125
Save

Liquid error (snippets/product-badge line 32): Computation results in '-Infinity'

%
Get help buying. Call (800) 678-3669 (USA and Canada).
Any boat owner or ship captain knows there are many navigation rules and keeping them straight can be a challenge. Used by the US Coast Guard, US Coast Guard Auxiliary and US Power Squadron, the Davis Instruments Navigation Rules card is a handy way to look up what you need quickly.
This Navigation Rules Quick Reference Card includes the US Buoyage System, Inland and International Rules, Right-of-Way, Lights, Sound Signals, and Bridge Signals. The card also includes zones of approach, distress signals, how to recognize lights of different ships and passage signals at night, and what to do if you are in doubt of a rule under certain circumstances.
The information on the card is presented in a way that is legible and concise. Colors and shading help separate the different sections of information, making it easy to find. The Navigation Rules Card is full color on both sides, and it is three-hole punched for a binder or bulkhead mounting. It's also weatherproof and made from durable plastic, allowing it to withstand anything that comes your way. The Navigation Rules Quick Reference Card measures 8½ × 11 inches (22 × 28 cm).
Highlights

Click here to learn more about the product.




A proven navigation tools used by the US Coast Guard, US Coast Guard Auxiliary and US Power Squadron. Navigation Rules feature US. Buoyage System, inland and international rules, right-of-way, lights, sound signals and bridge signals.
Measures 

8

½ 

×

 11 inches (22 

×

 28 cm).
FAQs

Click here to view popular questions and answers about the product.

What Are the Navigation Rules?

The navigation rules are designed to help avoid a collision at sea. The information contained on the Navigation Rules Card is that which is considered critical to safe passage for all vessels. There are 72 rules in all that were developed by the Intergovernmental Maritime Consultative Organization (IMCO), which was later renamed to the International Maritime Organization (IMO).

The rules of navigation are similar to the rules of the road when driving a car. They are meant to provide consistency so everyone can work to help avoid a collision. There are many nuances to the rules that must be understood before operating a craft. The most important rule is known as "Rule 7," which addresses what to do when the risk of collision is present. Determining whether a risk of collision exists is key: the prevailing weather and circumstances can be used to determine if a risk is present. If in doubt, it is always suggested that you act as if the risk is present. Knowing these rules is the first step to the safe operation of your vessel.

What is the Most Important Navigation Rule?

Three rules are considered the most important to help prevent collisions. The first is that at a bare minimum, you should have a proper lookout. The second is that you should always operate your vessel at a safe speed. The third is that you should always give right-of-way when in doubt.

It is always suggested that you follow these rules, but if a collision is imminent, it is acceptable to break them if it means avoiding an accident. Safety and protecting human lives should always come first. You should also use a compass to check the bearing of any neighboring vessel. This means checking them frequently because they can change bearings, and you must be continually vigilant. You should also be able to recognize when you are the stand-on or give-way vessel. It is always the duty of the give-way vessel to avoid a collision.