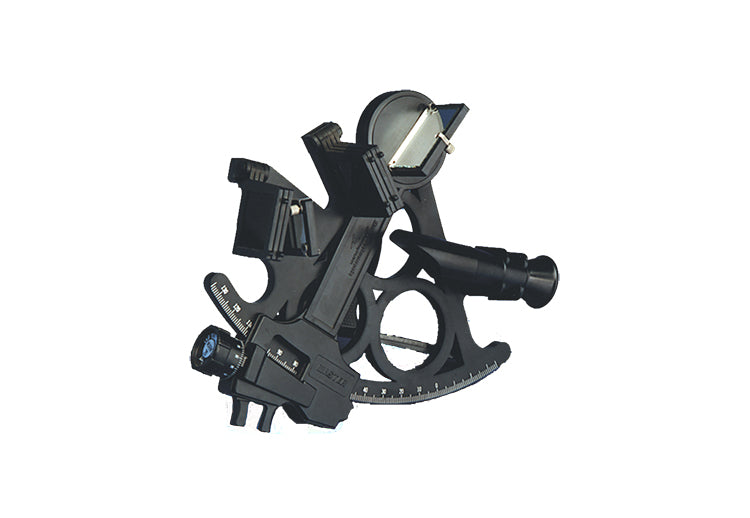 Mark 15 Sextant Navigation Tool - SKU 26
Save

Liquid error (snippets/product-badge line 32): Computation results in '-Infinity'

%
Get help buying. Call (800) 678-3669 (USA and Canada).
A sextant is an excellent tool to have on board any size craft as a backup in case there is a failure of the navigational systems. Used to measure the angular distance between two visible objects, the most common sextant navigation points are an astronomical object and the horizon. Sextants have many uses, ranging from measuring the distance of a landmark to determining Greenwich Mean Time.
The Davis Instruments Mark 15 sextant navigation tool includes seven sunshades and a micrometer drum Vernier scale that reads to 2/10 of a minute. It has a 7-inch frame radius that is graduated from 120 to –5 degrees. This sextant navigation tool also comes with a traditional half-silvered mirror. This model comes with a durable hard case.
The Mark 15 is a traditional sextant that provides accurate readings of many object pairs. It is lightweight, and the swingarm is easy to move with a smooth action. It also comes with an instruction manual that is easy to follow. A sextant is a simple instrument that is easy to use once you try it a few times.
Highlights

Click here to learn more about the product.




This model has many great features including seven large sunshades, a 3 mm

×

27 mm star scope, and easy-to-read micrometer drum vernier scale that reads to 2/10 of a minute. The Mark 15 has a 7″ (18 cm) frame radius graduated from 120 degrees to

–

5 degrees and comes with a traditional half-silvered mirror.
Comes with instruction booklet.
FAQs

Click here to view popular questions and answers about the product.

Are Sextants Still Used Today?

The sextant was first used in 1731. In recent times, they have been used to backup electronic navigational systems. In 2016, the Chief of Naval Operations and U.S. Navy ordered that crewmen should be trained to use the sextant as a backup navigational device in case of power failure. It is always considered a good idea to have a sextant and know how to use one in case of navigational instrument failure. When you are ready to buy sextant instruments for your craft, Davis Instruments is known for its quality.

How Does a Sextant Work?

The sextant uses two mirrors to measure the distance between objects. One of the mirrors only has silver on half of it to allow some light to pass through. This half-silver mirror is used to look at the horizon. Meanwhile, the second mirror is attached to an arm that moves. This mirror is moved to a position where the sun's reflection also reflects onto the first mirror. When you view this through the eyepiece, you see the sun superimposed on the horizon. The angle can then be read using the scale at the bottom of the sextant. You can use any two objects to do this.

What is a Sextant Used to Measure?

When a sextant is used to estimate the angle of a celestial object and the horizon, it is called sighting the object or taking a sight. The angle and the time when the measurement was taken are used to determine the position on a nautical chart. For instance, you can shoot the sun at noon or Polaris at night to estimate your latitude.

A sextant can also be used to measure the distance of an object using its height, and it can be used to measure the angles between two objects to obtain the position on a chart. Another use of the sextant is to shoot the moon and another object to determine Greenwich Mean Time and longitude.