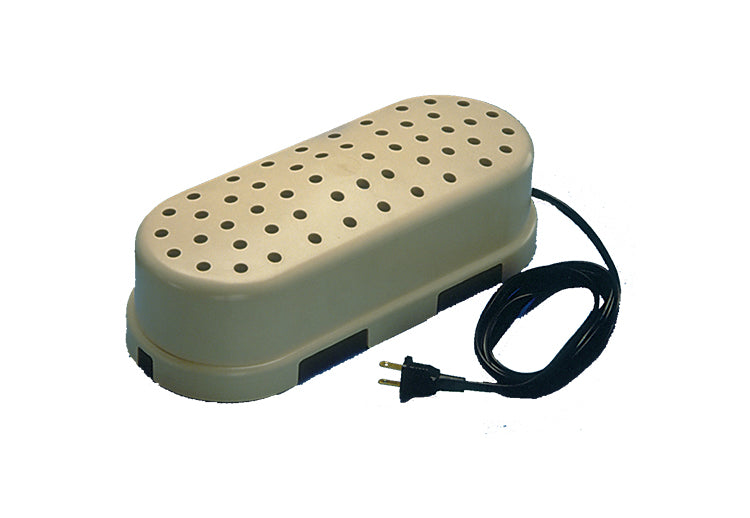 Air-Dryr 500 Dehumidifier - SKU 1459
Save

Liquid error (snippets/product-badge line 32): Computation results in '-Infinity'

%
Get help buying. Call (800) 678-3669 (USA and Canada).
Mildew is a problem in any wet or damp environment. Removing moisture from the air can help protect important equipment and supplies in small spaces. The Air-Dryr 500, unlike a typical small dehumidifier, works by preventing moisture condensation, mold, and mildew through a simpler operation of heating the air above the dew point. Its compact size makes it perfect for small spaces. Rectangular unit measures 13.5 × 5.5 × 4.25" high (34 × 14 × 11 cm high).
Unlike other compact dehumidifiers, it does not require a drip pan and the need to drain it. It works by drawing moist air in, heating it, and then expelling dry air out the top. It's made to work efficiently in an enclosed space of about 500 cubic feet (14.2 cubic meters). It is designed to be used on a hard, flat surface, and airflow could be restricted when it is placed on a high pile carpet. The unit is also energy efficient with a 70-watt heating element that only uses 0.6 amps of electricity.
Highlights

Click here to learn more about the product.




Slim and stable design — Handles up to 500 cubic feet (14.2 cubic meters) of living space. Ideal for boat, RV, home, office, factory and any area with moisture build-up. 

Rectangular unit measures 13.5 

×

 5.5 

×

 4.25" high (34 

×

 14 

×

 11 cm high).

Silent operation — No switch, fan, or thermostat. Uses natural convection to circulate the air.
Low operating cost — Designed for 24-hour operation.
Safe to the touch. Safe for marine use.
Neutral beige polycarbonate housing for strength and durability.

WARNING: Cancer and Reproductive Harm. For more information go to www.P65Warnings.ca.gov.
FAQs

Click here to view popular questions and answers about the product.

What Does a Small Dehumidifier Do?

The main purpose of a dehumidifier is to remove moisture from the air. Air-Dryer is different. It prevents moisture in the first place to help prevent mold and mildew. It can be used in any space where you store items that are sensitive to moisture. The Davis Instruments Air-Dryr 500 is designed for continual use in a smaller space. Mold and mildew must have moisture, warmth, and darkness to grow.

Do Small Dehumidifiers Work?

Typical small dehumidifiers work well but require maintenance and draining of the drip pan. The Air-Dryr 500 works very well when used according to the instructions and in a space that is at or below the recommended size, and requires no maintenance and has no drip pan. It is not designed for outdoor use, but it is designed to be compatible with marine use.

What Are the Advantages & Disadvantages of a Small Dehumidifier and Air-Dryr?

One of the advantages of both a compact dehumidifier and Air-Dryr is they can be used in small spaces. You can place an Air-Dryr in a way that is barely noticeable, as long as you are sure to follow any safety precautions contained in the instruction manual.

But Air-Dryr has many advantages over other small dehumidifiers. Typical dehumidifiers remove moisture from the air and drip the moisture into a pan that needs to be drained. Air-Dryr draws in moist, cool air and then heats the air above the dew point so that moisture remains suspended in the air rather than condensing on surfaces. Warm air rising and cool air drawing into the Air-Dryr creates natural convection that circulates the air and prevents moisture from settling.

All you have to do is to plug it into a 110/120 Volt outlet and the 70-watt heating element will begin to heat and remove moisture from the air. There is no moisture collection reservoir to empty, and no water container to overflow. The outside does not get hot to the touch. The best part is that there is no fan, thermostat, switch, or moving parts. This means that it has quiet operation, and there are fewer moving parts to break. This solution provides a way to create an atmosphere that prevents mold and mildew from forming and will help your space continue to feel dry and warm.