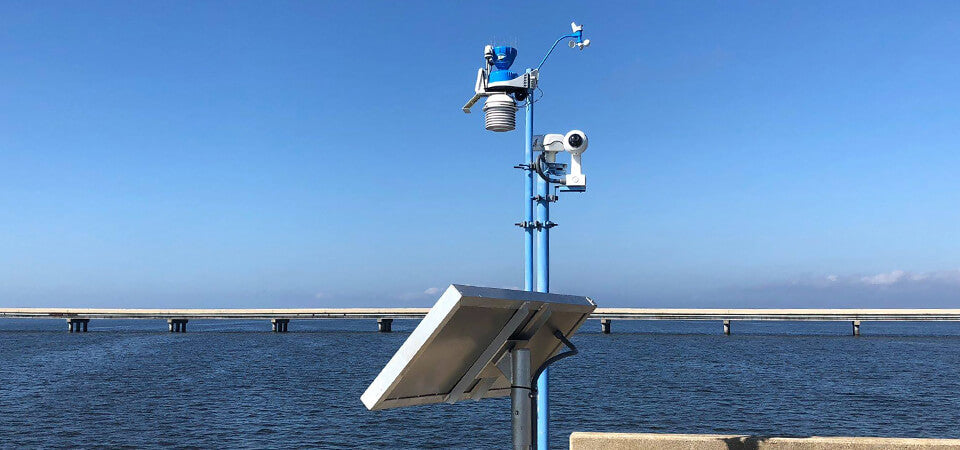 Sensing Danger: WeatherLink Live Makes Florida Bridge Safer
On Florida's St. George Island Bridge, a four-mile (6.5km), two-lane bridge that connects St. George Island to the mainland, emergency managers must deal with the dangers of suddenly-shifting high winds. Their most crucial need is for timely data: learning that wind speeds reached a threshold that should have prompted a bridge closure minutes ago is too little, too late.
In 2016, Franklin County Emergency Management (FCEM) engaged weather-intelligence provider WeatherSTEM to cr
eate a system to monitor driving conditions. The bridge experiences high-speed winds that can swirl in from any direction at any time, causing dangerous driving conditions and expensive, time-consuming bridge closures when high-profile vehicles tip over.
WeatherSTEM initially installed a Davis Instruments system to measure wind, rain, temperature, UV, solar radiation and water temperature from a single position, approximately a mile off the mainland shore. It added high-resolution cloud-connected cameras to observe real-time imagery of current conditions and to provide time-lapse visuals of passing weather patterns. The system was connected to a 150W solar panel to solve remote power issues and combined a Davis Instruments WeatherLinkIP device with a Sierra Wireless modem to bring the site online. This system reported environmental data every minute.
WEATHERLINK LIVE
Davis Instruments recently approached WeatherSTEM to help pilot the newly developed WeatherLink Live. A single Davis WeatherLink Live can receive and upload data from more than 80 sensors on eight transmitters every 2.5 seconds.
WeatherSTEM quickly identified the St. George Bridge installation for a significant upgrade.
This new technology opened the doors for WeatherSTEM to give emergency managers data from several anemometers along the bridge span instead of the single-point measurement in the previous installation. The company installed six additional anemometers, above and below the bridge, with a combination of Davis Solar-Powered Wireless Sensor Transmitters and Long-Range Repeaters. Paired with a set of Yagi antennas, WeatherSTEM was able to reliably transmit data 2.5 miles (4km) to the WeatherLink Live. With seven windspeed and direction sensors and real-time streaming data, FCEM can profile wind conditions along the entire length of the bridge and observe windspeed and direction shifts as they occur. This represents a monumental leap forward in the system's data capabilities and substantial improvement to transportation safety management on the bridge.
While WeatherSTEM's physical installation of the entire system took a full day to complete, the WeatherLink Live was a quick and easy installation. All eight sensor channels were configured via the WeatherLink iOS app (also available for Android). Data from the device flows directly to the WeatherLink Cloud, where it is stored for historical research and analysis and is available for immediate viewing on the WeatherLink website or the WeatherLink mobile application. Additionally, advanced installers can access data directly from the device via the WeatherLink Live Local application programming interface (API) or from the standard WeatherLink Cloud API (coming soon), providing third-party service options to integrate into its software or technology solutions. WeatherSTEM uses the Local API to send real-time data to the St. George Island Bridge WeatherSTEM web page. It has built a custom data visualization that shows real-time wind speed and direction updates overlaid on a map of the bridge.
RELIABLE REPUTATION
WeatherSTEM originally recommended Davis to the FCEM team because of Davis's reputation for producing instruments with long-term dependability, rugged quality, and minimal maintenance, all of which would be needed to stand up to the daily exposure to conditions on the bridge. The company also knew that Davis's equipment is a cost-effective option. The entire Davis Instruments package for the St. George Island Bridge was less than US$6,000, not including installation and additional services. In this case, WeatherLink Live, with its ability to listen to multiple transmitters including multiple anemometers and even multiple weather stations, was the perfect fit for a unique monitoring situation. It puts the most important data into the hands of decision-makers in time to act on a dangerous situation.
NEW AND IMPROVED
Initial bridge system:
Davis Instruments Vantage Pro2 Plus with fan-aspirated radiation shield, UV sensor and solar radiation sensor (includes wind and rain measurements)
Davis Instruments Sensor Transmitter with water temperature probe
2x WeatherSTEM high-resolution cloud cameras
Davis Instruments WeatherLinkIP data logger connected to a Sierra Wireless modem
150W solar panel
New bridge system:
Davis Instruments Vantage Pro2 Plus with fan-aspirated radiation shield, UV sensor and solar radiation sensor (includes wind and rain measurements)
6x Davis Instruments anemometers
3x Davis Instruments wireless long-range repeaters
4x Yagi antennas
Davis Instruments water temperature probe with Solar-Powered Sensor Transmitter
2x WeatherSTEM high-resolution cloud cameras
Davis Instruments WeatherLink Live connected to a Sierra Wireless modem
150W solar panel
On Davis' WeatherLink.com, emergency managers can monitor wind and weather conditions from the customizable bulletin dashboard
WeatherSTEM utilized the WeatherLink local API to build a custom monitoring solution for Franklin County Emergency Management personnel. View WeatherStem's custom solution >
In the face of escalating environmental risks, AEM is the essential source for insights on weather, climate, lightning, floods, wildfires, water management, and more.
Learn more about AEM and all of our solutions here.