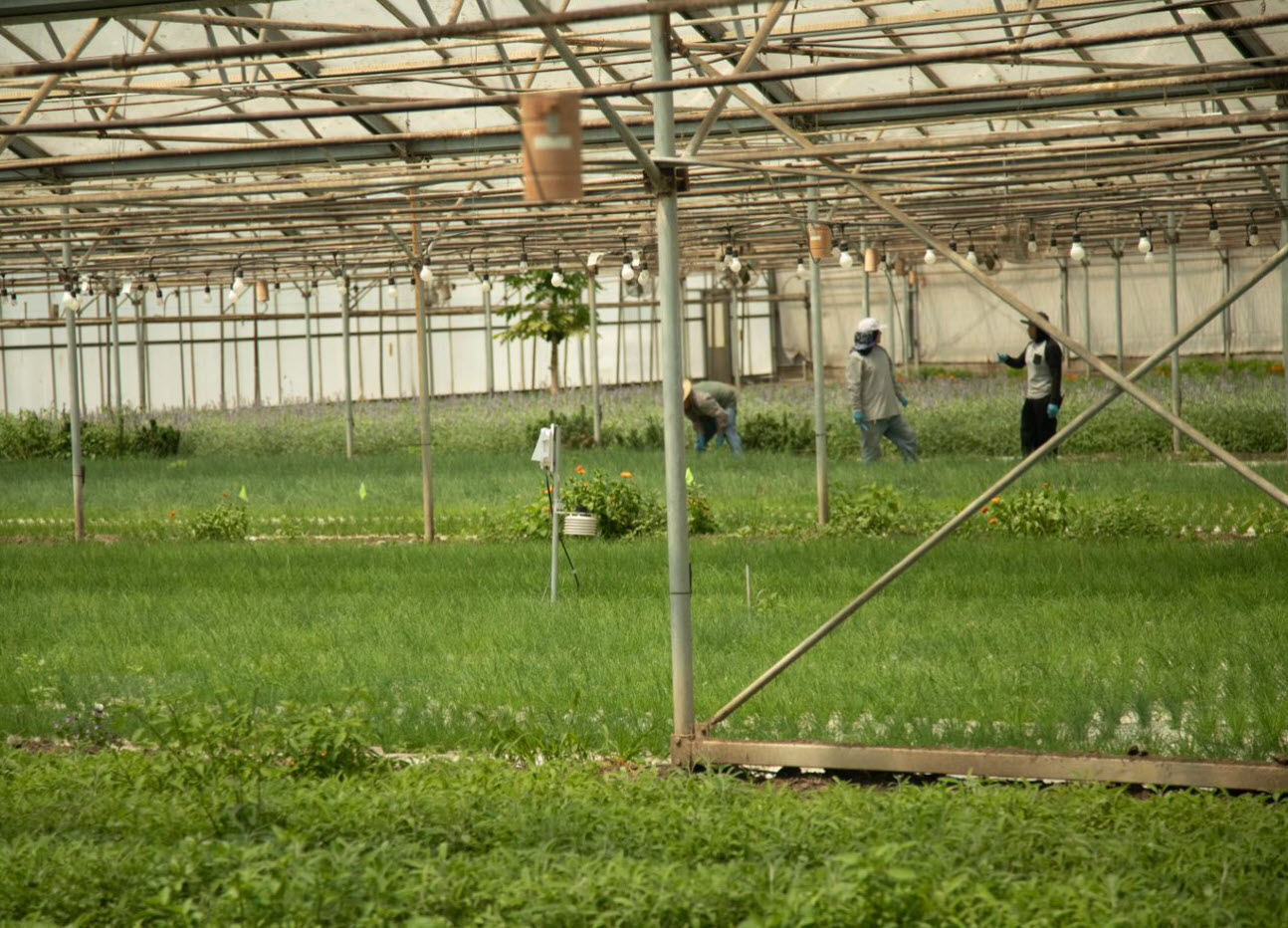 Jacobs Farm: Growing Herbs in Greenhouses with EnviroMonitor
Sandra Belin and Larry Jacobs walk the fields of their Pescadero, California, farm where their farm story began.
Over 40 years ago, Larry Jacobs and his wife Sandra Belin acted on their urge to get back to the land and started growing veggies on eight coastal acres in Pescadero, California. Theirs was one of the first certified organic farms.
You may have seen Jacobs Farm herbs in your local grocery store. But there's so much more to the Jacobs Farm story.
JACOBS FARM

ENVIROMONITOR

SYSTEM

IN THE OFFICE:

ENVIROMONITOR IP GATEWAY

OUTSIDE:

VANTAGE PRO2 GROWEATHER

IN THE GREENHOUSE:

ENVIROMONITOR NODES WITH SOIL MOISTURE, LEAF WETNESS, TEMPERATURE/HUMIDITY SENSOR

Need help designing your perfect EnviroMonitor system? Click here to set up a free consultation.
Today, that dream has grown to encompass seven sites along California's central coast. Jacobs Farms Del Cabo is now an industry leader in organic herbs, producing over 30 different fresh culinary herbs and veggies relished by chefs and home cooks across the United States and Canada. If you are a fan of fresh, flavorful, organic herbs, tomatoes, and other veggies, you have probably enjoyed Jacobs Farms del Cabo's produce -- they are carried by many grocery stores including Whole Foods and Trader Joe's (under private label).
Larry's and Sandra's passion for benefiting the community and environment has fueled this expansion. They see their role as one of nurturing: they nurture their plants, the soil, their customers, and the Earth.
But wait, there's more. Larry and Sandra also founded the Del Cabo Collective which trains and supports organic farmers in Mexico. With over 1,250 farming families in Baja California and central Mexico, the collective grows organic tomatoes, peppers, squash, and more.
And if you thought that was enough, think again. Larry and Sandra have their earth-loving fingers in more projects including coastal conservation at Wilder State Park in Santa Cruz County, helping educate the public about organic agriculture at Martial Cottle Park in San Mateo County, and working with Cal Poly San Luis Obispo just north of Santa Cruz at their Swanton Pacific Ranch.
 At their site in the agricultural town of Watsonville, just a few miles south of Davis Instruments in Hayward, Jacobs Farm grows their beautiful herbs year-round in 10 acres of greenhouses. They rely on a Davis EnviroMonitor system to monitor and help control temperature, relative humidity, leaf wetness, and soil moisture.
Operations Director Leo Segura walks among the fragrant rows of basil in the Jacobs Farms greenhouse.
Leo Segura, the Operations Director at the Jacobs Farms Watsonville site, told us, "Humidity and temperature are everything in a greenhouse. The greenhouses have automatic vents that open and close, but our Vantage Pro2 GroWeather gives me a secondary check. It also lets me know when the winds pick up so I can close any vents so they aren't damaged by high winds. It helps me decide when to turn on fans inside to control humidity, too."
A Vantage Pro2 ensures that high winds won't damage open vents on the greenhouses.
That Vantage Pro2  is one part of the EnviroMonitor system. The others are inside: EnviroMonitor Nodes and an EnviroMonitor IP Gateway that helps the team make irrigation and pest control decisions.
"I PAY ATTENTION TO HUMIDITY. HERE IN WATSONVILLE, WE HAVE 25 WEEKS OF CLOUDY WEATHER A YEAR. WHEN IT IS WET OUTSIDE, FUNGAL DISEASES LIKE DOWNY MILDEW CAN BE A PROBLEM - ESPECIALLY WITH BASIL. OUR

ENVIROMONITOR

SYSTEM HELPS ME KNOW WHEN TO OPEN VENTS OR RUN THE FANS."
Walking into a Jacobs Farm greenhouse is magical. The scent of basil and sage rise in the mildly warm air to greet you (and make you crave pizza…). Tidy, weed-free rows of herbs fill greenhouse after greenhouse.
"We try to keep the temps 8 to 10 degrees above the outside during cool months," Leo said. "And we control weeds by covering the beds with plastic, and by steaming the soil."
An EnviroMonitor Node with Sentek soil moisture and soil temperature sensors is mounted in a row of bright green chives.
"What we want to do is create a cycle. We don't want to overwater. We look at soil moisture at 4", 8", and 12". We aim for about 25% soil moisture at 8".  We find that irrigating for 20 minutes gives us good soil moisture at that depth," Leo told us.
In a row of basil, another Node reports soil moisture and leaf wetness.
The Nodes send data to the farm's EnviroMonitor IP Gateway, currently mounted just inside the door of the chive greenhouse.
Can you see it? The small, but mighty, EnviroMonitor IP Gateway was in a place of honor inside the greenhouse the day we visited. With a range of up to 1,000 feet, it usually lives in the office. 
DECISION-MAKING WITH

ENVIROMONITOR

IRRIGATION
PEST CONTROL
OPERATIONS (OPENING/CLOSING VENTS AND FAN USAGE)

Need help designing your perfect EnviroMonitor system? Click here to set up a free consultation.
While the greenhouse keeps the plants safe from freezing (this is California, but it does get cold!), many insect pests, and high wind damage, the Jacobs Farm team still has to mitigate pests, weeds, and diseases.


"I pay attention to humidity," Leo said. "Here in Watsonville, we have 25 weeks of cloudy weather a year. When it is wet outside, fungal diseases like downy mildew can be a problem – especially with basil. Our EnviroMonitor system helps me know when to open vents or run the fans."
Leo uses the WeatherLink app on his phone to keep an eye on conditions inside and outside the greenhouse, 24/7.
Any threats to the Jacobs Farm plants are dealt with using organic and sustainable methods. Careful soil management, crop rotation, composting, and use of organic pest control produces healthy plants that are delicious and good for people and the environment.
Next time you see a bunch of fragrant basil or a box of perfect cherry tomatoes with the Jacobs Farm Del Cabo logo on the shelf at your local market, put it in your cart. You'll be enjoying Larry and Sandra's dream along with the luscious flavors. And you can whisper a little thanks to EnviroMonitor for its role in bringing this food to your table too.
HOW CAN

ENVIROMONITOR

HELP YOU MAKE DATA-DRIVEN DECISIONS TO INCREASE YIELD WHILE REDUCING WASTE AT YOUR FARM?

Click here to set up a free consultation with an EnviroMonitor specialist.
In the face of escalating environmental risks, AEM is the essential source for insights on weather, climate, lightning, floods, wildfires, water management, and more.
Learn more about AEM and all of our solutions here.