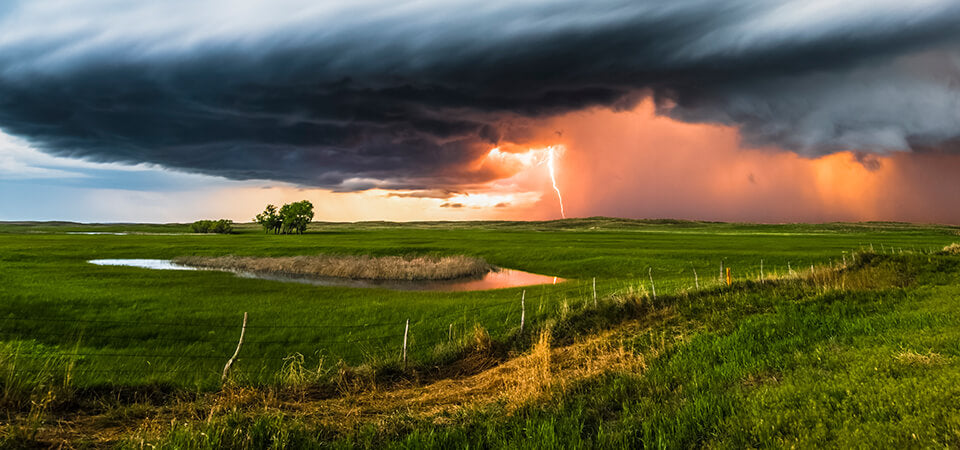 David Mayhew's Twin Passions: Weather and Photography
We were proud to feature a gorgeous photo by David Mayhew on the front and back covers of our 2019 weather catalog. Now, we'd like you to meet the creative genius behind the image.
UK-born David Mayhew has the heart of an artist and the mind of an engineer: a perfect combination for a storm-chasing photographer.
After graduating with a bachelor's degree in Engineering Design, David's sense of adventure took him on a 19-month-long exploration of Australia, New Zealand, Fiji, and Hawaii, topped off by hitch-hiking across Canada. It wasn't until David moved to Turin, Italy, to work for FiatAuto that digital photography first caught his eye. In 2003, David decided to bail out of the "9-to-5" world and dive headfirst into photography, taking on studies in photography at the College of DuPage near Chicago. While there he was bitten by the Weather Bug and took advantage of the DuPage meteorology program. He gained enough knowledge to forecast severe weather for storm chasing.
Now based in the foothills of the Rocky Mountains in Colorado, David is ideally located for heading east into tornado alley or west to explore the landscapes of the Southwest.
"Weld County in northeast Colorado has, on average, more tornadoes than any other county," David said with pride, "And I live six miles west of Weld County."
Living where he does, David can usually chase storms very close to home. Still, he averages 471 miles per day per chase and he occasionally even exceeds 1000 miles in a day of chasing.
"No matter how many times I have been out chasing and how many different storms I have seen," David told us, "I can still be surprised by something different. Storms are never the same twice, which makes for an ideal and unique subject matter to photograph as I get to capture a unique moment in time."
But storm chasing comes with risks, as David has learned.
"On May 11, 2014, I had a not so pleasant surprise from a tornado in Beaver Crossing Nebraska," he told us.
"It was my first chase of the year. I prefer the late-season storms as they tend to be more isolated, slower moving, and with better structure. I was taking things cautiously to ease myself back into chasing, plus I had recently bought a new car to chase in, a Subaru Forester. The storm formed near Clay Center, southeast of Grand Island, and it was quite a gnarly beast. The storm had a low base and produced a tornado that rapidly formed and dissipated.
"Soon it became a High Precipitation (HP) supercell and the area in question was wrapped in rain. I had decided to stay on paved roads and play it safe as opposed to risk the unpaved county roads. As the storm approached, I needed to head south to let it pass by. I dropped south and a wall of dirt approached from the west. The car jolted a few times as if it was being rammed by a rhino and telephone poles next to me started to lean. I eased forward just beyond the end of the line of poles. The wall of dirt hit the car, blowing out all three side windows and covering the inside with mud, some of which can still be seen on the ceiling. The telephone poles behind me snapped. Other chasers were hit by a flying irrigation rig."
"The town of Beaver Crossing was hit by an EF-3, half-mile-wide tornado that made a big mess of the town. What had hit me was the RFD (Rear Flank Downdraft), descending cold air that wraps around the back side of a tornado and is believed to be associated with tornado-genesis. Another chaser clocked the wind gust at 98 mph [158 kph]. I was four miles south of where the tornado crossed the road and had believed I was in a safe area. Had I taken the dirt roads east, I would have stayed ahead of the storm and out of danger."
That scary experience hasn't stopped David. It wasn't even his highest EF storm.
"I was able to witness the widest ever recorded tornado near El Reno, Oklahoma, measuring a staggering 2.6 miles [4 km] in diameter," he told us. "Tornado strength is recorded on the Fujita scale by assessing storm damage on buildings. Many intense sub vortices were witnessed within the main tornado and a Doppler on wheels recorded wind speeds in excess of 295 mph [475 kph] which would make it an EF-5, none of this hit structures and so the rating for the tornado was an EF-3."
Chasing tornados can go from calm and safe to dangerous very quickly.
"Most tornadoes last less than a minute, often a matter of seconds," David said "It is very rare to have a tornado on the ground for an extended period, but on May 25, 2016, I chased the Chapman KS tornado for a full 90 minutes. Maintaining a width of a half-mile [.8 km], traveling in a straight line and being clearly visible, it was a dramatic chase. Luckily, no deaths occurred even though it crossed I-80."
His photography is awe-inspiring, both for the artistry and for the powerful subject matter. You can see more of David's amazing work on his website.
In the face of escalating environmental risks, AEM is the essential source for insights on weather, climate, lightning, floods, wildfires, water management, and more.
Learn more about AEM and all of our solutions here.