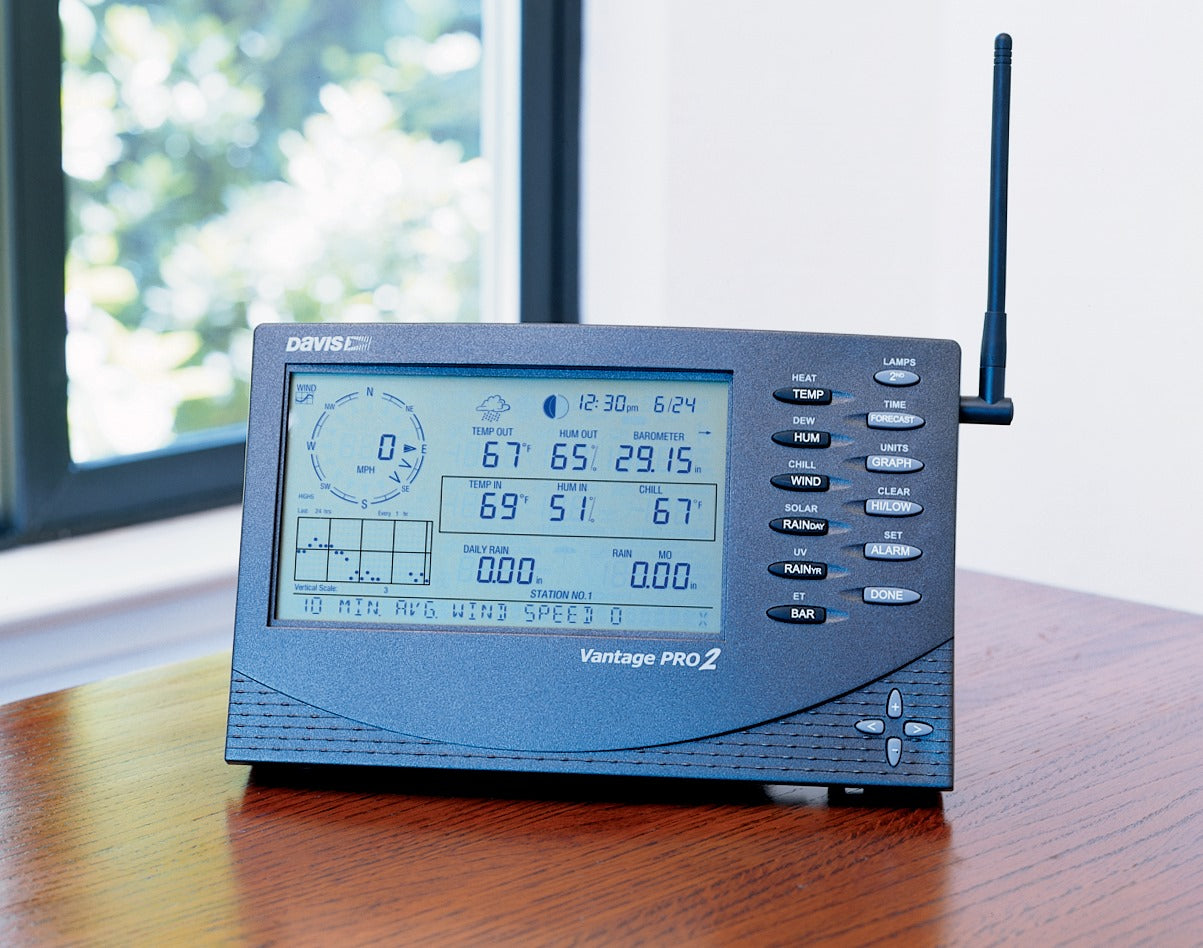 Wireless Vantage Pro2™ Console Receiver - SKU 6312
Get help buying. Call (800) 678-3669 (USA and Canada).
The Vantage Pro2 is a professional weather station that gives you updated local weather information quickly. The outdoor sensor suite measures a wide range of meteorological parameters, including temperature and humidity (indoor and outdoor), barometric pressure, rainfall and rain raitel, wind speed and direction, UV index, and solar radiation. The Vantage Pro2 console allows you to take full advantage of this information through access to current data, historical data, graphing, calculated indexes such as wind chill, heat index, and evapotranspiration, forecast, moon phase, and much more. The weather station console does all of this without connecting the system to a PC.
The weather station console can sit on your desk or be mounted on a wall. You can set alarms, such as when temperatures begin approaching a critical point for outdoor work or when wind speeds reach a certain level. The console allows you to set up to 22 alarms at once and is compatible with both the Vantage Vue and Vantage Pro2 weather stations. You can use the system to retransmit data allowing you to extend the range of your sensors up to 1,000 ft. (300 m).
The Vantage Pro2 console has a glow-in-the-dark keypad and a backlit LED screen that is easy to see by day or night. It offers easy access to graphs of the last 24 hours of data, last month, or the previous year. This allows you to keep track of trends so that you can make better decisions about your recreation, garden, home maintenance and more. The console gives you instantaneous access to the information you need and the ability to do deep analysis, all from a single, convenient unit with an intuitive and easy-to-understand display.
Highlights

Click here to learn more about the product.

Add a second console to your system; compatible with both Vantage Vue and wireless Vantage Pro2 sensor suites.
Console can retransmit data wirelessly 1,000'/300 m to another console and/or WeatherLink Live.
See inside and outside temperature and humidity; barometric pressure; wind speed and direction; rainfall; dewpoint; indexes moon phase, alarms; UV, Solar and ET (with optional sensors), highs/lows and more.
Choose metric or US units.
Glow-in-the-dark keypad; backlit LED screen for easy viewing, day and night.
On-screen graphing of weather data shows you over 100 graphs for last 24 hours, days, months or years.
Set 22 simultaneous console alarms to warn of dangers such as high wind, freezing temperatures, high rain rate, heat index, and more.
Tickertape provides forecast and meteorological information.
AC-powered with battery-backup; includes kickstand or can be wall-mounted.
One-year manufacturer's warranty.
FAQs

Click here to view popular questions and answers about the product.

How does a Vantage Pro2 console work?

The Vantage Pro2 console receives data from the Vantage Pro2 or Vantage Vue weather stations via spread-spectrum, frequency-hopping radio transmission. It then displays the data for immediate viewing. It keeps track of the data so that you can see and graph historical trends.

How do I connect my Vantage Pro2 console to the internet?

The Vantage Pro2 console is designed to allow direct access to your data. If you also want to access your data on your phone or computer, you will need to add a WeatherLink Live to your system. It allows you to upload data to WeatherLink.com via Wi-Fi.